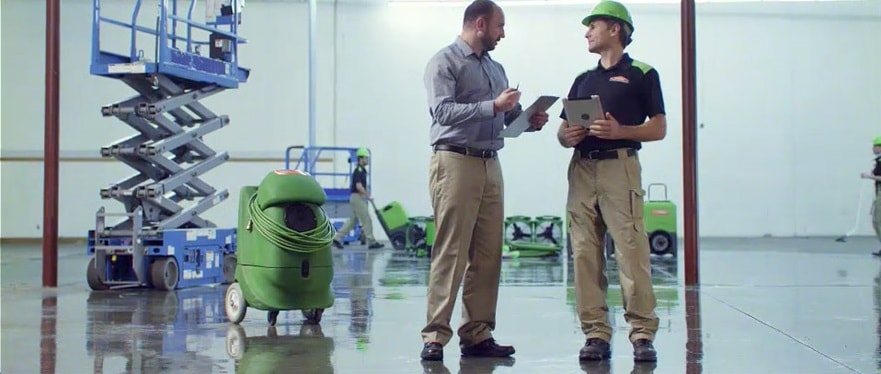 Commercial Mold Remediation
Our local team in Murrieta is a trusted leader in mold mitigation and remediation services. We have been remediating mold in Murrieta for years, so when your commercial business has a mold problem, you can rely on our professionals to restore the damage to preloss condition quickly, efficiently, and with minimal disruption.
Mold spores are always present in the Earth's atmosphere, waiting for the perfect conditions to populate. Mold feeds on organic materials, including drywall, carpeting, fabric, paper products, wood, and more. Water leaks, flooding, and other types of water damage can encourage mold to colonize in as little as 48 hours, and these colonies can spread rapidly to other areas of the structure.
Our mold mitigation and remediation technicians are certified by the Institute for Inspection Cleaning and Restoration Certification (IICRC), the nonprofit certifying body for the cleaning and restoration industry. We have the advanced training, specialized equipment, and experience necessary to mitigate any mold infestation you have in your Murrieta business. You can count on our team in Murrieta to restore your mold damage "Like it never even happened."
24 Hour Emergency Service
Faster to Any Size Disaster
A Trusted Leader in the Mold and Water Restoration Industry with over 2180 Franchises
Highly Trained Mold and Water Damage Restoration Specialists
Have a Mold Problem? Call Us Today – (951) 894-4392
Commercial Mold Remediation Presents Unique Challenges
Mold can spread quickly through a property if left untreated. SERVPRO of Murrieta can respond quickly, working to first contain the infestation to help prevent its spread to other parts of the building. Next, we will begin the remediation process, working safely and effectively to manage the situation. We have the training, experience, and equipment to contain the mold infestation and remediate it to preloss condition. Learn more about SERVPRO of Murrieta training and certifications.
Applied Microbial Remediation Specialist
Water Damage Restoration Technician
Applied Structural Drying Technician
Odor Control Technician
Upholstery and Fabric Cleaning Technician